Hey Everybody!!

I posted a few weeks ago and I said I would make a larger post detailing what I've been up to, the boys and the like.

It's been over a year since I've posted regularly and I'm sorry for that. I just kinda dropped off the livejournal radar. I've been extremely active over at tumblr, if anyone is over there and wants to follow me. My name is, as always, wily_one24

Now, onto the harder stuff... and a pic or two...



Light stuff first: Fandoms I'm in are Once Upon A Time and Rizzoli & Isles (yup, jumping straight into that Bi Girl stereotype full throttle... and loving it, I might add). My current crushes are Emma Swan and Jane Rizzoli (and by 'crushes' I mean 'obsecenly lusts after', but why digress?)

I haven't had any kind of relationship since I've talked to you, which means I am still jn the process of returning to virgin hood. Woooo!

Physical health wise, I've been pretty good. Healthier than I've been in a good long while. I haven't gained any weight, which means I'm still underweight, but I haven't lost any either, so... it's all of a muchness on that point.

Mental health is a bit different. For the first half of this year I suffered clinical depression and ended up in therapy and on anti-depressants. It was pretty bad, but I'm on an upswing at the moment.

I stopped going to therapy (my therapist like to tell me how ugly I was and how everything I did was wrong and everything I ate was slowly killing me, she was more interested in getting me to stop eating wheat, sugar, dairy foods, processed foods, junk and soft drink... basically any food at all that maintains my weight and doesn't lose it.... than she was in making me feel better about myself) and I stopped taking the meds.

We shall see how that goes.

James started school this year!! That's right, he's a school boy! He's about six weeks away from finishing his first year. A prep student. Next year he begins Grade One. Wheeeee. At school, each year, the children write a story, illustrate it, then it is professionally printed out and bound. At the end of six years at primary school, they have six bound books that progress from 5 years to approx 11. It's awesome.

This year James' story was called "Clever Red Riding Hood" and beings with the first page 'Once Upon A Time there was Red Riding Hood' and continues on the second page with 'A ninja wanted to kill Red Riding Hood'. BUAH HAH HAH.

Anyway... Michael is three and he's up and about and a real little boy, there's nothing quite babyish about him now. He's definitely a force to behold, quite stubborn and headstrong and will do anything for attention, good or bad. He's definitely a cheeky monkey, but it's usually in such a good spirit and not rude cheeky that he gets away with it. He knows how to lay on the charm to get what he wants.

I haven't done much schooling lately, or at all this year, due ot the depression. But I am making inroads into returning to study at the moment and should be back by the end of November.

Okay, onto the photos...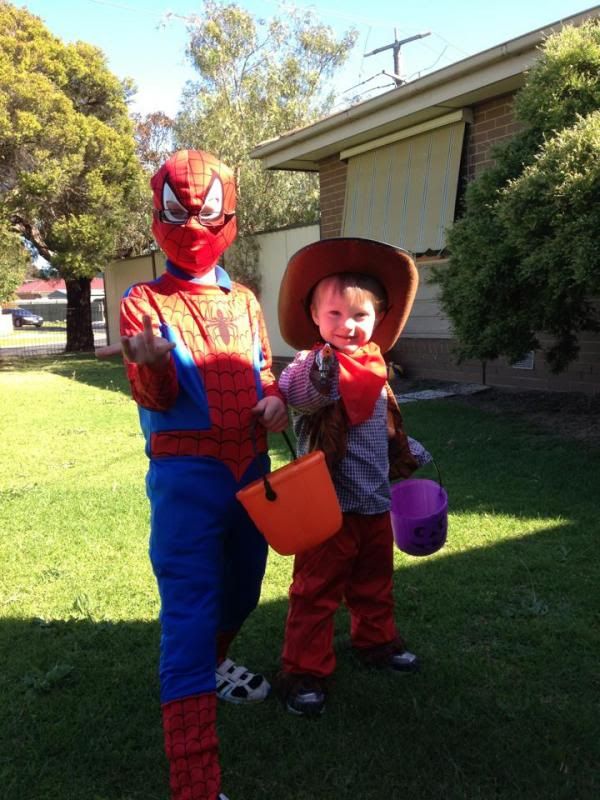 The most recent photo, taken just before Halloween. James as spiderman and Michael as a cowboy. We only walked through our court and half the connecting street and collected a whole bucket each for the kids. It was very exciting. Michael was most excited about the apple he got from our neighbours, that was the treat he chose to eat before dinner that night. Go figure.

****




Un-costumed boys. Family Day at their football team's oval (Hawthorn, Australian Rules, if you need to know). They had so much fun.

****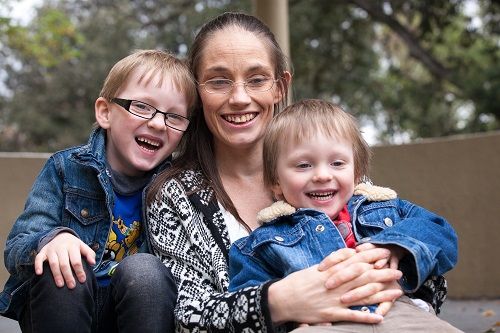 And this is all three of us taken in May. Not entirely happy with me in this photo, but then I never am, So... what are you going to do?



I guess I'll talk to you soon!!